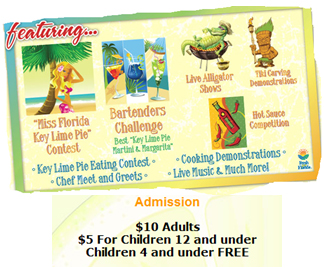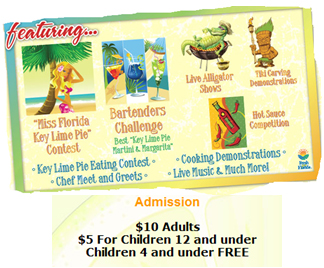 Join 98.5 The Beach at the 3rd Annual Florida Key Lime Pie Festival, January 18th, 10a to 6p at Kiwanis Island Park, Merritt Island. The Beach will be doing a Live Remote sponsored by Nance Cacciatore from 10a to 12 Noon, stop by the Beach Tiki Bar for a complimentary 98.5 Beach Ball while supplies last.
The Festival will feature Florida Artisans showcasing their work emphasizing our states beauty, diversity and appreciation of art, from beautiful acrylic, oil and watercolor paintings, marine wood carvings, nautical knot decorations, palm frond art, pottery, sea bean and sea glass jewelry, tiki carvings, tropical floral arrangements and much more.  
Kick Back and Relax… 
Enjoy a nice glass of wine or your favorite cocktail alongside your plate of culinary delight as you take in the entertainment of the festival's bands, demonstrations and presentations.
Culinary Demonstrations
Watch the best of the best of Florida's Culinary Schools as their instructors and students prepare dishes featuring fresh ingredients and secret techniques utilizing ever amazing Florida's Key Lime in extraordinary and palate tantalizing dishes.
Special Festival Experiences
You have the opportunity to become part of the festival's several very unique and one-of-a-kind experiences such as the "Miss Florida Key Lime Pie" Contest or the The Best of Florida's Bartender's "Key Lime Pie Martini" and "Key Lime Pie Margarita" Challenge, the Key Lime Chilihead's "Hot Sauce Competition", as well as The Florida Key Lime Pie Company's ever popular "Florida Key Lime Pie Eating Contest".