If you have been in a car accident, you may have experienced neck pain and wondered if you have whiplash.  Or, maybe you have experienced neck pain after a different event like a ride on a rollercoaster and wondered if it's possible to get whiplash from something other than a car accident.
What is Whiplash?
According to www.mayoclinic.org, "Whiplash is a neck injury due to forceful, rapid, back-and-forth movement of the neck, like the cracking of a whip [hence, the name]."  Whiplash results in neck pain and can include stiffness and headaches.  It does NOT have to occur from a car accident.  It can occur from anything that causes your neck to whip forward and back.  This could be from things like a rough roller coaster or a sports accident like being tackled in a football game.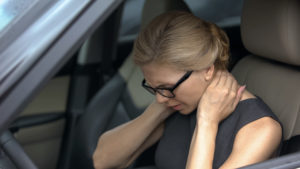 How Long Does the Pain Last?
Is whiplash something that will cause you pain for the rest of your life?  In general, the pain and discomfort of whiplash usually only last a few weeks.  It may require pain medication or muscle relaxers to help reduce pain and inflammation leading to less discomfort.  However, many people try to steer clear of taking prescription medications.  Probably the best way to treat whiplash is by doing particular exercises.  These may be "assigned" to you by your doctor or your doctor may want you to see a physical therapist.
A local resident told us:
"Our daughter was in a car accident when she was 17, driving home from her auntie's house, on the freeway.  She ended up rear-ending the car in front of her.  They were fine and were very kind to her.  She tried to stop in time but couldn't.  She was experiencing pain in her neck and couldn't fully turn her neck to the side.  Our doctor sent her to a physical therapist.  She went once a week for a few weeks.  Soon, she was back to normal!"
What Should You Do if You Get Whiplash from a Car Accident?
Sometimes there are longer-lasting repercussions from whiplash or other injuries sustained in car accidents or other activities.  It is imperative that you see a doctor and not try to diagnose yourself.  You want to make sure you get the proper treatment.  You also don't want to accuse someone of giving you whiplash when you are actually just experiencing muscle soreness that isn't actually whiplash!
At Nance Cacciatore Law, we specialize in personal injury, including those caused by cars, trucks, boat accidents, and motorcycle accidents.  We understand that accidents happen.  Sometimes the other person really couldn't avoid the collision, but you are paying the price with terrible neck pain.  If your bills are not being met through your insurance or you feel that your pain and suffering has gone beyond what would normally occur in such an accident, then please give us a call.  Let us evaluate your case and see what we can do for you.  Our Brevard County personal injury attorneys serve Melbourne, Titusville, Cocoa, Merritt Island, and the beachside towns.  We wish you only good health and no neck pain, but we are here for you if you need us!