During the COVID-19 pandemic, if you have gone anywhere at all, you surely noticed that there were substantially fewer cars on the road.  One local woman traveled down to West Palm Beach to visit her grown children.  She reports having never seen so few cars on the road in that bustling city and that the trip down went faster than ever before due to the lack of traffic.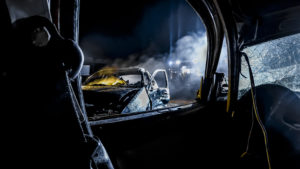 As personal injury attorneys, we have wondered if fewer cars on the road equaled fewer car accidents.  And, indeed, it does!  That is good news.  You may think we hope for accidents or injuries to occur because of the area of law in which we specialize.  It is NEVER our desire for anyone to come to harm.  We simply believe it is our calling to be there for anyone who does go through such a tragedy.
Fewer Accidents Yet a Higher Death Rate
We are dismayed, however, by the fact that even though fewer accidents are occurring during the pandemic, the death rate is higher.  We have to consider what is causing the death rate to rise.
Perhaps, although there are fewer cars, those that ARE on the road are being a bit more careless simply because they think there is less of a chance that they will get into an accident.  They are right, but something about the way they are handling this information is leading them to perhaps drive more recklessly or carelessly than they normally would.
The Dangers of Texting and Driving
Perhaps more people are on their phones trying to connect with loved ones and friends that they are currently unable to see in person.  We certainly understand the desire to connect with them.  It is hard not to see people you care about for long periods, particularly if they live close and you are used to spending a lot of time with them.  However, these phone calls, texts, and video chats can be done when you safely arrive at your destination.  The car is not the place to do that.  While Florida has not gone completely hands-free like some states, our state has outlawed texting while driving.  If you feel the need to talk on the phone while in the car, use Bluetooth or the speaker on your phone so that you can safely keep both hands on the steering wheel.
Whatever the reason, we know the facts speak loudly – a higher death rate with fewer accidents is a sad situation. Please, whether there are hundreds of cars on the road or just you, maintain your vigilance and alertness, and drive as if your life and everyone else's lives depend on it because they do.
Car Accident Attorneys in Melbourne, FL
If you or a loved one is faced with a situation in which you need a personal injury attorney, then we hope you will call us at Nance Cacciatore Law.  During the pandemic, our Melbourne, FL personal injury attorneys have been meeting with our clients via phone and/or video calls.  We want to be here for you at ALL times, including these unprecedented and trying times which we are all facing together.  We wish you health and safety!