When we plan a vacation, it is always a blissful, relaxing getaway – in our minds.  Sometimes reality matches our vision.  Other times, things don't go as smoothly as we had hoped.  If you live here in Florida, you may vacation here or elsewhere.  As a resident, you know that thousands of people flood our state every year to enjoy their vacation time.
What happens when things don't go as planned?  If you're taking a vacation that offers vacation insurance, we recommend it.  There are always unforeseen circumstances in life from poor weather to an unexpected illness or death in the family.  If you are vacationing in Florida during hurricane season and the company you planned your vacation through offers trip insurance, please take it.  You might not need it, but if you do, you will be very grateful you purchased it.  You might be thinking that you don't want to add to the expense of your trip by purchasing the insurance.  For instance, insurance for a cruise is approximately $70 in total.  That is nothing compared to losing all your money due to a canceled cruise because a hurricane decided to arrive during your vacation!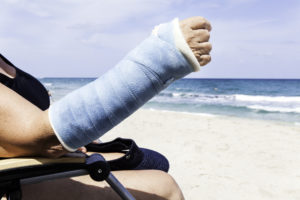 Getting Injured on Vacation
What other unforeseen circumstances might occur?  Well, unfortunately, many people get hurt while on vacation.  That can really put a damper on your plans.  While we can get hurt doing a myriad of things in our regular, everyday lives, we tend to do more daring things on vacation which may lead to injuries.
Activities like hiking, river rafting, and cliff jumping/diving are all things that people can engage in on vacation that they probably don't do on a daily basis.  Twisted ankles, bumped heads, and broken limbs are just some of the injuries that can occur from these activities.
Water Sport Accidents
Swimming, surfing, and parasailing are all major activities here in Florida.  If you haven't done these things before or are new at them, then please take the necessary precautions. According to Think Advisor, 29,000 injuries occur each year from water sports and 181,000 injuries occur each year from swimming accidents.  Swim and surf when there is a lifeguard on duty.  Agree with your travel mates (family and/or friends) on a hand signal that indicates you need help, so they can alert the lifeguard if necessary.  Just waving your arms back and forth does not always work as many people mistake this as a person simply waving "hi" to those on the beach.
Carnival Ride Injuries
Florida is obviously known for its many amusement parks – Legoland, Sea World, and Disneyworld are just a few of them!  Did you know that according to Think Advisor, 37,000 injuries occur each year due to amusement park, state fair, and carnival ride injuries? With all of these statistics, it is easy to see why everywhere you go seems to have warning signs posted.  It is important to follow the guidelines posted wherever you are on your vacation.
Amusement Park Accidents
Many accidents are preventable and many are nobody's fault which is why they are called accidents in the first place!  However, there are times when negligence is the cause and it is the fault of somebody else.  For example, if the seatbelt on an amusement park ride fails or there is a malfunction in parasailing equipment.  When an injury-causing accident occurs and blame can be placed on something or someone other than the victim, then it is time to call us at Nance Cacciatore Law.
Hiring a Personal Injury Attorney
We specialize in personal injury cases, including tourism accidents.  We have an outstanding team ready to work for you.  Our in-house investigators are former police officers who know the protocol of investigating at-fault situations.  Our lawyers are skilled in courtroom trials and have no qualms about going to trial to get you the compensation that you deserve.  Nobody's vacation should end in an injury, particularly through no fault of their own.  We can't undo your accident, but we can help you get the proper compensation, so please call us today.