You buy a car.  Insurance is required.  You have to give your insurance information to the salesperson at the car dealership.  Insurance is not optional.  So, how is it that people are driving around uninsured?  They cancel their insurance policy.  Anyone can do this.  Because you can switch insurance companies whenever you want, it is possible to cancel your current policy and switch to another company.  However, some people, in an attempt to save money, will cancel their policy and not get a new policy.  This is illegal.
If someone buys a car through a private party, such as finding a car on craigslist and purchasing it, then proof of insurance is not required.  This is one way people without insurance can purchase a car and get away with not having car insurance, even though it's required by law.  This is also how a person without a driver's license is able to purchase a car.  At a car dealership, you are required to provide your driver's license before purchasing a car.  This is not the case when purchasing from a private party.  So, you now have the potential of a person with NO driver's license and NO car insurance driving around on the street.  This is a scary thought.
Uninsured Motorist Car Crashes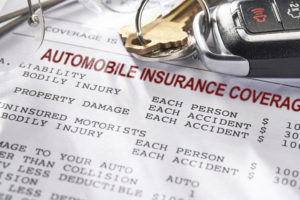 What happens if you are hit by an uninsured motorist or even an unlicensed, uninsured motorist?  According to policygenius.com about 13% of drivers in the United States are uninsured while in Florida the number spikes to approximately 28%!  So, it is entirely possible to be hit by an uninsured motorist.  It is not a far-fetched possibility.  Also, if you are the victim of a hit-and-run accident, it is basically the same as being hit by an uninsured motorist.
What can you do in case of such an accident?  Have car insurance!  You may now be wondering if you need to have Uninsured Motorist coverage on your policy.  This does not increase the cost of your coverage much and you may want it, but overall, a good insurance policy will meet your needs.  Some states require this coverage, but Florida is not one of them.
Assessing Damages with a Personal Injury Attorney
You now may be wondering why attorneys exist that take on injury cases from car accidents if your insurance covers you regardless of the other person who was at-fault being uninsured.  The answer is pretty simple.  Sometimes the injuries sustained are such that car insurance is not enough to cover the "damages."  For instance, between your car insurance and your health insurance, your car may be repaired and your injuries "repaired," as well.  What isn't covered may be things like lost wages from missing work or compensation from pain and suffering.
A fender bender is not generally a reason to need a personal injury attorney.  However, if you have been involved in a serious car accident and have ongoing health issues, such as spinal cord damage, or can no longer work due to the accident, then please give us a call at Nance Cacciatore Law. Our Brevard County personal injury attorneys specialize in such cases.  We want to get you the compensation that is fair, based on what you have gone through and what your ongoing needs will be due to the accident.  If you were in a car crash and need a lawyer, our Melbourne, FL car accident attorneys will help you through this difficult time and help ease your burden.  Please call us today at 321.777.7777.