Tragically, in March, a Brevard woman was struck by a car and killed while illegally crossing the road about a half a block from a pedestrian crosswalk on a dark, busy stretch of highway A1A in Indialantic. This death occurred just as police, engineers, and leaders in the community are working to make crossing this busy coastal road safer for pedestrians. Was the driver negligent or was this just an unavoidable tragedy? Why wasn't the crosswalk utilized? Could the collision have been avoided?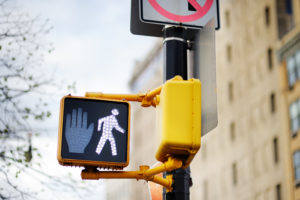 Florida Crosswalk Laws
What are the Florida laws regarding pedestrians and crosswalks? In our very own backyard, 18 pedestrian flashing crosswalk beacons will soon run between Satellite Beach and Indialantic. You need only to cruise in either direction on A1A to see this process in action. In Satellite Beach there are completed crosswalks just waiting for lights. On riverside roadways and throughout the south beach areas of Brevard County, a system seems to be taking root where orange flags are carried by pedestrians crossing in designated crosswalks. The flags are then placed in receptacles on each side after crossing for the next grouping to utilize. The orange flags draw more attention to the walking pedestrians and enhance visibility. For anyone who has driven these routes lately or read any local articles addressing the new crosswalks, you'll notice some reactions have not been favorable.
The "push-button" flashing crosswalk beacons are supposed to alert and stop motorists behind a white solid painted bar on the road until bicyclists and pedestrians have cleared the crosswalk. The rapid-fire rectangular beacon will flash when a pedestrian presses the button.  According to Chad Lingenfelter, an FDOT pedestrian and bicycle specialist, education is paramount. He states: "…it is against the law to jump out in front of a car, and it's also against the law for a driver to hit a pedestrian in a crosswalk." Lingenfelter encourages pedestrians to allow appropriate wait time after pressing the button and not to step out quickly into the roadway. He wants to educate pedestrians to check to see if cars are slowing down, all lanes are stopped, make eye contact and acknowledge drivers before deciding if it is safe to cross.
Brevard County Safety Statistics
In a Florida Today article from 2017, Brevard was ranked, "…second- most dangerous area for pedestrians in the entire country and is centrally located in far-and-away the most dangerous state for pedestrians in the nation as well." Although the crosswalks came about after safety concerns, tragedies, and intensive studies, skepticism is high with some people calling for removal before the crosswalks have been completely installed and utilized. Drivers are worried about being rear-ended if they are stopped on a stretch of A1A where there are few traffic lights and a speed limit of 45 mph. Others feel distracted drivers will miss the flashing light beacons altogether. Large vehicles may block views for bicyclists and walkers of the other lane making for a dangerous crossing situation, as well.
At Nance Cacciatore, we are concerned for your safety as a community member and pedestrian in the areas of Viera and Melbourne in Brevard County. If you or a loved one has been hit by a motor vehicle or involved in a pedestrian accident, contact us immediately. We will work as your advocate helping to alleviate the stress of dealing with the aftermath of being hit by a motor vehicle. Be safe!